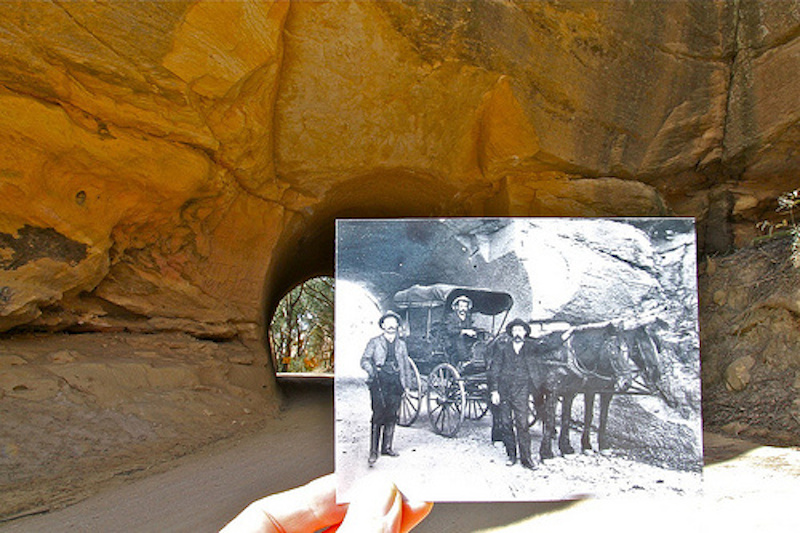 Hier könnt Ihr die privaten Urlaubsbilder einiger Zeitreisender betrachten.
Die Beschreibungen der jeweiligen Fotografen lasse ich mal so für sich stehen.
"The tunnel was completed during 1899 as part of a new tourist road linking the Southern Highlands to Wombeyan Caves, in rural NSW. Officially opened on 29th January 1900, the road was originally named Duprez Road in honour of Adolphe Prosper Duprez of Bowral who was the driving force behind its construction. The historic photo was probably taken shortly after the road was opened. The road and tunnel are still in use today, especially on weekends by 4WD enthusiasts."
"Manly beach, Australia, photographed 13 December 2010 and around 1940. The right hand figure in the small picture is my father, who would have been in his late twenties at the time."
"Normally, this is where I'd discuss what has changed in the original picture vs. today. But when the photo is of the March on Washington, I'm not sure what I can say. What has changed? Many things. But not enough things. We must do better."
Original photo taken by Warren Leffler, August 28, 1963, courtesy of the Library of Congress.
"Well, the landscape looks similar in this view, but thank goodness times have changed. This kid is 9 years old!"
Caption of original image, taken by Lewis Hine:
Israel April, 314 I St., S.W., Washington, D.C. "I serves the President". 9 yr. old news boy with no badge selling near Willard Hotel, Sunday P.M., 4/14/12. Been selling for several years. I found him selling after midnight April 17th and 18th. Quite a pugnacious little chap. He and his brother are said to have a large clientele among ambassadors and senators. Location: Washington (D.C.), District of Columbia.
Original image taken on April 14, 1912, courtesy of the Library of Congress.
"A postcard sent from my dentist (whose building is in the picture) to remind me to have a check up. Thought it would be a good example for a then and now looking into the past. The old image I am guessing could be from the 1955 flood."
"Those are some stylish women. This must have been a heckuva party! This photo was taken at the Kenmore Plantation home, which was built by George Washington's sister."
Original photo taken on 5/9/1925, courtesy of the Library of Congress.
"This is now the Paca House & Garden. The length of the old car vs. the length of the SUV behind this shot is pretty telling. Cars back then were SMALL. See this scene today."
Original image taken in 1920, courtesy of the Library of Congress.
"Miss Atlantic City, Miss Philadelphia and Miss Washington, DC gather in front of Union Station. Miss Washington, DC (Margaret Gorman – the first Miss America) has appeared in this series before. She is joined by Ethel Charles and Nellie Orr. And, as someone on Shorpy astutely notices, Jed Clampett. Nothing other than some light fixtures has changed here. Good. Union Station doesn't need the help."
Original photo taken in 1921, courtesy of the Library of Congress.
"I'm not going to lie to you, this is one of my favorites. Just about everything except for the statue and the church spire has changed. New buildings, bushes gone, sidewalk there, etc. See this scene today."
Original photo taken in 1911, courtesy of the Library of Congress.
Also ich finde auch, Alice mit dem dicken Hasen ist echt der Kracher! Wer wie ich von diesen Bildern nicht genug bekommen kann, besucht einfach nochmal die Retronauten oder tritt am besten gleich Jason Powells "Looking into the Past"-Pool auf Flickr bei. Einige seiner Prints stehen übrigens zum Verkauf.
Falls Ihr in nächster Zeit in London seid, könnt Ihr mit einer App des Museum Of London auch selber so eine Zeitreise unternehmen.
Thanks to Jason Powell, Laurie Wilson, Sean O'Brian & Nomad Tales!